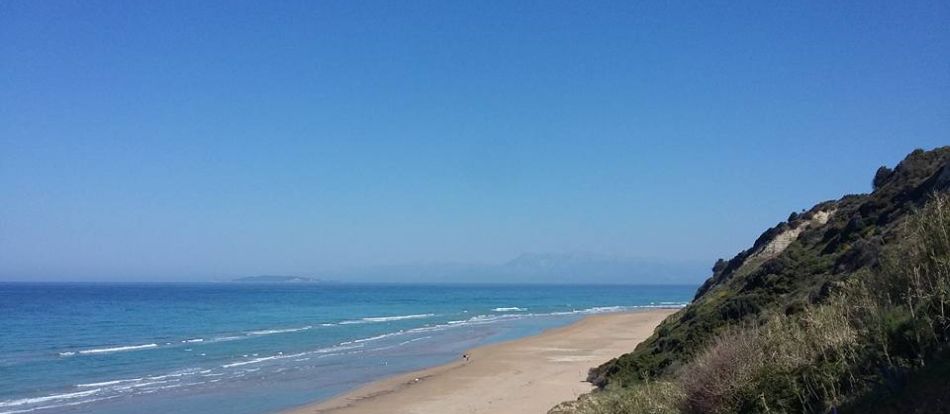 HOME AGIOS STEFANOS ARILLAS RODA SIDARI ST GEORGES (NORTH) CORFU TOWN & SOUTH CONTACT US
Aghios Stefanos (also known as San Stefanos) is on the north-west coast of Corfu and has a long, sandy beach with shallow water. It is an ideal holiday location and a popular (yet uncrowded) destination for couples, singles and families. Many holidaymakers return every year having made friends with local people. The resort provides a good variety of local businesses including, tavernas, restaurants, bars, music-cafés, a baker's, a jewellery shop and several souvenir shops. Car hire, daily newspapers and currency exchange are available and there are plenty of sun beds and umbrellas for rent next to the sea. Aghios Stefanos faces the Diapontian Islands which can be reached by ferry from the small local harbour where fishing boats bring in their daily catch. A bus service runs several times a day to Corfu Town via Avliotes and Sidari. Neighbouring Avliotes is located on a hillside and is a traditional Corfiot village where you can experience life away from the resorts. Below you will find a selection of businesses in Aghios Stefanos promoted by Corfu Selections.
"I booked with Corfu Selections as I wanted a specific number of nights and dates for our holiday in Agios Stefanos. At every stage I was kept informed of our booking and the whole process was highly professional and totally stress free. I have no hesitation in highly recommending Corfu Selections, particularly if you like to book independently."
Leslie Findley.
These brand new villas offer the perfect location for a luxury Corfu villa holiday. Each villa has its own pool and sleeps up to six persons. Facilities include a Wi-FI, home cinema, sauna, games room and barbeque area - plus of course, fabulous sea views and sunsets! More...

Kapetanios Self-Catering Apartments

These family-run apartments and studios are set on the hillside above Aghios Stefanos and have beautiful views from the pool area overlooking the sandy beach which is just down the hill. A little further on you will find the centre of Aghios Stefanos with its bars, tavernas and gift shops. More...


Self-catering apartments situated above Aghios Stefanos with fabulous views across the sea to the Diapontian Islands and over the resort itself. It is a tranquil location just 600 metres from the centre and its amenities, and 800 metres from the sandy beach. There are several pool bars nearby. More...
| | | |
| --- | --- | --- |
| Located in a tranquil beachfront location overlooking Aghios Stefanos beach with a view of the Diapontian Islands and the most spectacular sunset in north-west Corfu. A unique experience in Mediterranean dining using fresh local produce to create an interesting and inspiring menu. More... | Jasmine Apartments and Studios have wonderful views across the bay and sandy beach. They offer all the facilities necessary for couples and families to enjoy their Corfu self-catering holiday in a peaceful location. All apartments include a kitchen; en-suite shower; balcony or patio; and a TV. More... | Excellent value hire cars from a family run business conveniently situated in the centre of the resort. Free delivery to the airport, North and North West resorts. A professional and friendly service at local prices. A choice of models to suit all budgets. What better way to explore the island? More... |
These luxurious suites are situated in their own private manicured gardens on the beachfront, looking out towards the Diapontian Islands. With only a few seconds stroll to the beach and just five minutes from the centre of the resort, they are ideally located, with the nearest shops less than a minute away. More...

Villa Leo comprises two self-catering studios and a two-bedroom apartment. It is located just 600 metres from the sandy beach of San Stefanos and offers a peaceful holiday with good quality facilities and spectacular views - all at value for money prices including free Air-conditioning. More...

Silver Moon Self-Catering Studios

Silver Moon self-catering studios offer an ideal base with all the resort's facilities within a few minutes walk, while a short stroll brings you directly onto the sandy beach. The studios have beautiful views towards the sea and offer comfortable accommodation at value for money prices. More...
Vicky Self-Catering Apartments

Overlooking the sandy beach of Aghios Stefanos which is situated just 10 metres from the pool area. It is set in a beautiful and peaceful location, with a mini-market only 100 metres away and close to all the resort's amenities including bars, tavernas, restaurants and souvenir shops. More...

In a peaceful location within their own flowered gardens and with scenic views across San Stefanos Bay. Comfortable, spacious self catering apartments sleeping two to six persons. A swimming pool with free use is close by as well as a sandy beach and the resort centre. More...

Free delivery throughout the resort plus you can order your first grocery pack online ahead of your arrival! We are conveniently located on the main road in the centre of the village and open every day from 8.00 in the morning to midnight from April to October( including Sundays). More...
| | | |
| --- | --- | --- |
| These family run self-catering apartments and studios are located in a peaceful spot within their own grounds and have views of the resort, the sea and the surrounding olive groves. They are spacious, comfortable, ideal for families and couples and great value for money. More... | Located in a traditional hillside village in an enviable position, shaded by grape vines, and with stunning views across the village and surrounding countryside. Within walking distance of Agios Stefanos, it is a perfect place to visit for lunch or dinner and enjoy freshly prepared Corfiot dishes. More... | This three bedroom villa is set within an acre of private grounds overlooking Agios Stefanos and the surrounding countryside with stunning sea views towards the Diapontian Islands. The grounds are perfect for private sunbathing. It is within walking distance of both Arillas and Agios Stefanos. More... |
| | | |
| --- | --- | --- |
| Offering a wide range of scooters, mopeds, quads and buggies - as well as pedal bicycles - to enhance your holiday here in Corfu. With over 30 years experience, this family run business provides a professional and personal service, which will ensure your confidence when renting a bike. More... | Centrally located 100 metres from the beach, these two apartments each have two double bedrooms and a large balcony with a view of the sea. They are stylishly furnished and offer that little bit more than the average holiday apartment. There is a separate fully equipped kitchen/dining area. More... | Simple self-catering accommodation in studios and two bedroom apartments. Situated in an elevated position with great views across the resort, the beach and the sea. Just an 8 to 10 minute walk from the beach, the apartments are close to the centre of Agios Stefanos and all its facilities. More... |
Based in San Stefanos, our sea kayaking day trips are open to all and can be enjoyed by experienced kayakers, first timers and all levels in between. You will have the chance to explore some of Corfu's wonderful coastline at a relaxed pace and to appreciate its stunning natural beauty. More...

Villa Ellie (formerly Villa Petra)

A beautiful stone built cottage, nestling amongst olive groves in the Stouza area of Agios Stefanos, It was completed last year and offers a peaceful setting for couples or perhaps a small family with two beds downstairs and two on the mezzanine level. Open from May until October. More...

Tsaros Rent-a-Car offers a selection of new, air conditioned cars at very competitive prices combined with attentive personal service. Based in San Stefanos we cover the north and north-west of Corfu including the resorts of Roda,, Sidari, Arillas, San Stefanos, St Georges and Paleokastritsa. More...
| | | |
| --- | --- | --- |
| Situated in the centre of the resort and overlooking the beach, the hotel's rooms have either sea views or views inland across the gardens, and all include free air conditioning. It boasts the largest pool in the resort and the amazing sunsets can be experienced from the à la carte poolside taverna. More... | As the name implies, these apartments offer luxury facilities in an ideal location just above San Stefanos beach. All rooms have sea views and are close to all the resort's facilities. You can choose from recently refurbished studios, apartments or suites - perfect for a peaceful, relaxing holiday. More... | These adjacent self-catering studios each sleep two and provide simple, value for money, holiday accommodation. You can book each studio separately or together to sleep four. They offer a peaceful setting and are ideally situated for walks to neighbouring Arillas and the surrounding hills. More... |
| | | |
| --- | --- | --- |
| Situated five-minutes drive from San Stefanos this villa is built on two levels with the ground floor offering a spacious living and dining area, kitchen, two bedrooms and two bathrooms. The upper level has another living and sleeping area. There is air-conditioning, wi-fi, a private pool and a BBQ area. More... | At Helen's Apartments we offer two modern, self-catering, open-plan studios in a central location. The beach is just 300 metres away and our guests have the use of a swimming pool which is only a minute's walk. Planned for 2019 is Helen's House - book now! More... | Villa Irene (previously known as Olympia House) has been totally renovated for 2019. Located in its own grounds, just 100 metres from the beach, this beautiful villa offers comfort, style and all you would wish for your holiday vacation. All front facing balconies have a sea view. More... |